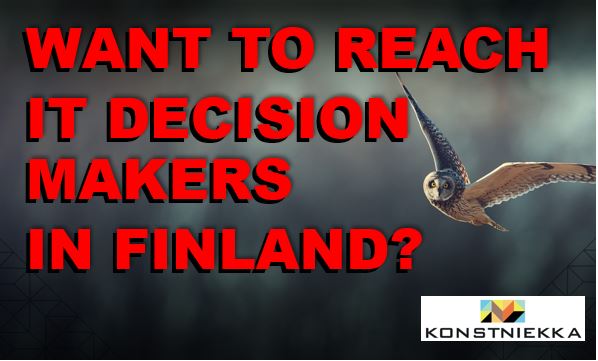 Business Development Representative (BDR) is the person who is in the front lines searching for new customers making the seller's life easier.
It takes a lot of skill, strategy, and experience to reach and book meetings with Finnish decision-makers. Many BDR's underrate the people they are calling, who are experts in their field and want to have a technological conversation with someone who understands their line of work.
At first, IT managers prefer to have the first contact in Finnish, but are prepared to schedule a meeting in English later. This is why it is very important to speak Finnish very fluently when calling a prospect. Konstniekka can do all of this with years of experience and skill.
Here are some tips, if you want to do it on your own
Decision-makers in Finland are pleased when you approach with good knowledge about their company without wasting their time and it's important to understand their corporate structure, so take the time to find the right information.
It's critical to have relevant questions ready and a great pitch from the information you collected earlier.
The anatomy of a perfect sales call
The first impression is everything, introduce your full name and company name, so that they know who they are talking to.
Get straight to the point about how this is beneficial to their company to keep them interested. Good questions are essential because IT decision-makers are happy to talk about topics that they are passionate about.
You may hear the word "no" at first, but don't get discouraged and keep asking more questions about their future and upcoming projects leading the conversation forward. Don't be too aggressive, because Finns don't like that. You need to be assertive enough to get a meeting and it can be a little hard to walk that delicate line to get the right amount of ambition.
When you have successfully booked a meeting, prepare them with information on who to invite and what kind of meeting it is. Digesting enough information beforehand will enhance your success rate.
The gist of it is to be prepared with excellent questions and use the right amount of ambition to book meetings. This can be hard and time-consuming, but Konstniekka has the right people and tools to achieve great results. Contact Olli for more information olli.ikonen@konstniekka.fi or call +358 (0)44 308 5501.